One of German's greatest secrets is its incredible Castles. When many people think of Germany they think about the recent history of the country and about their food, but Germany also has an abundance of Disney-like castles. In fact, Neuschwanstein Castle is the castle that inspired the castle in Walt Disney's Sleeping Beauty.
Possibly the most famous historic site in Bavaria, you have likely seen pictures of the castle without knowing where it is. Schloss Neuschwanstein ("Schloss" is "castle" in German) is one of King Ludwig II's castles. He was the King of Bavaria from 1864 until his death in 1886.
King Ludwig was also known as the Swan King, and less affectionally as the Mad King. He, unfortunately, suffered from depression and shyness (likely autism) throughout his life, and he had an extremely vivid and child-like imagination.
Construction of Neuschwanstein Castle began in 1869, as a private retreat for the king, rather than as a functional home, but the build was never fully completed, due to the King's mysterious death. Only 15 rooms of a planned 200 were complete at the time of his death, and historians aren't able to find confirmation of whether he committed suicide, whether he was murdered, or whether his death was due to an accident.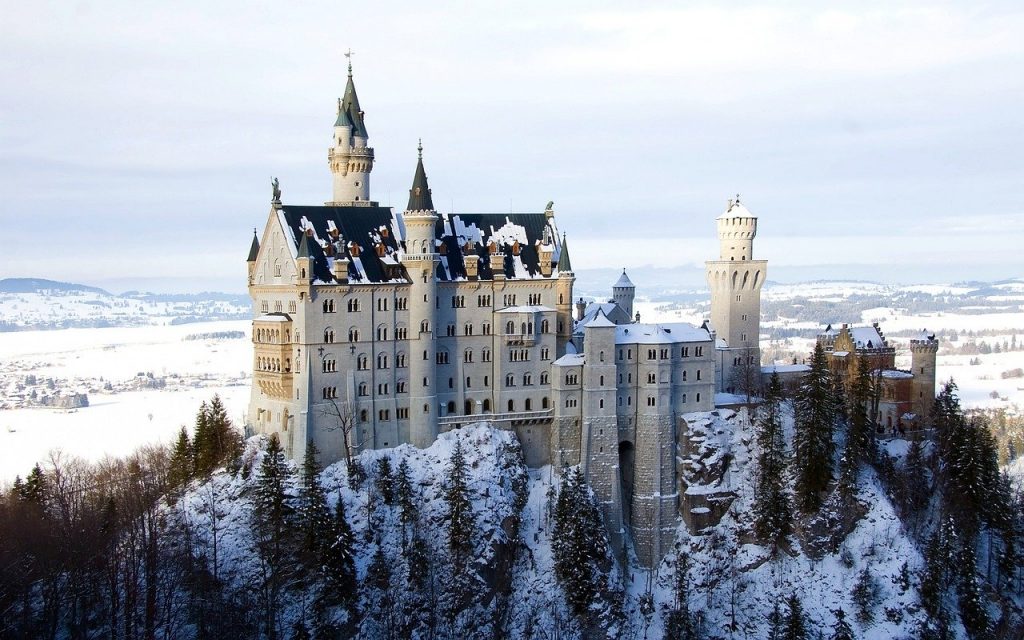 The architecture is of a medieval style and the interior of the castle is just as magical as the exterior. The castle where the King actually lived, Hohenschwangau, is clearly visible from Neuschwanstein.
You can visit both these castles on a day trip from Munich, but you'll be much more immersed in the magical feel of the surroundings if you stay in one of the small towns nearby.
If you want to visit Neuschwanstein and Hohenschwangau, you have to book on to a guided tour to view the interiors. These tickets can be purchased online or on the day, but if you buy online you can expect a much shorter time queuing to pick up your tickets. In the height of the summer up to 6000 people a day visit the castle, so it's well worth booking your tickets for pick up so you don't have to wait inline with everyone else, plus this is the only way to know what tour you'll be on before you arrive.
If you're planning a trip to Europe the magical castles in Germany should really not be missed. If you need a place to plan travel bucket list, we have a bucket list maker on our site, or you can download the Buckil app, available on iOS and Android, to take your bucket list with you everywhere you go on your travels.