Didn't we all love going on the swings at the park when we were kids? Most of us did, and the daredevils among us would try to take the swing to the very highest point they could. If you're going to add going on a swing to your bucket list, shouldn't it be the highest swing in the world?
The Nevis Swing is the most famous swing in the world – it is not an understatement to say this thing is huge. Whether you swing alone, with a friend, forward, backward, or even upside down (if you're determined to scare yourself half to death), you'll complete a 300m arc (that's 984 feet!), probably screaming at the top of your lungs.
If you're looking for an adrenaline-fueled activity to add to your bucket list where you can cling desperately to your friend or partner, this is it. It looks terrifying (click here to see for yourself), but more comfortable than a tandem bungee jump.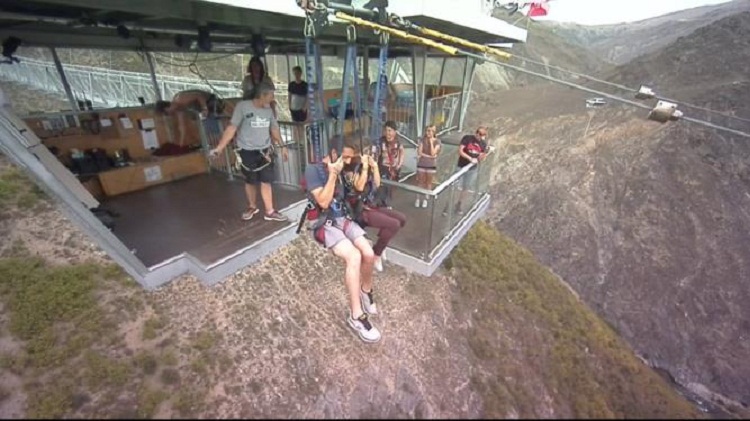 Where will you find this epic swing? The swing is in Queenstown in beautiful New Zealand, and you have to take the Swing Bus from the Queenstown Bungy Centre, with buses departing throughout the day.
If you want to swing, you need to be over 10 years old, and any children under 14 need an adult to sign consent at the check-in and go with them on the experience. The weight limit is 35kg – 220kg (77 – 485lbs), you need to be in good health and make the team aware of any conditions or recent injuries, and they can't accept anyone who's pregnant or who has photosensitive epilepsy. There are a few conditions that require a doctor's certificate, so check before you go.
The Nevis Swing is one of the ultimate adrenaline-pumping activities for your list, so if you're not quite brave enough for sky diving or bungee jumping (or have already ticked those off your list), this will be the perfect addition to your bucket list.
For more unique bucket list ideas, or to start a bucket list of your own, go to Buckil to go to our bucket list maker, or search for the Buckil bucket list app on Google Play for Android or the App Store for iOS.