I don't know about you, but when I think about the Galapagos Islands I think about huge ancient tortoises and David Attenborough, but there is so much more to these incredible islands than just what we see on TV. These islands are breathtakingly beautiful, and there's more to see and do than you'll ever fit into just one trip.
The Galapagos Islands are part of the Republic of Ecuador, about 605 miles off the west coast of Ecuador, and are an archipelago of volcanic islands on the equator. There are 18 main islands, with a landmass of at least 1 square kilometer, and 4 minor islands which are smaller.
You can snorkel with sea lions, relax on the beautiful beaches, or walk across the islands to see the plethora of interesting and unique animals who call the islands home. The most popular islands to visit are Santa Cruz Island, Isabela, Floreana Island, and San Cristobal.
Santa Cruz Island is the most populous island and is home to the Charles Darwin Research Station. It's here that you can see those famous Galapagos tortoises, who are nurtured and bred at the station, and a 45-minute gentle trail from Puerto Ayora to Turtle Bay Beach is the perfect way to spend an afternoon.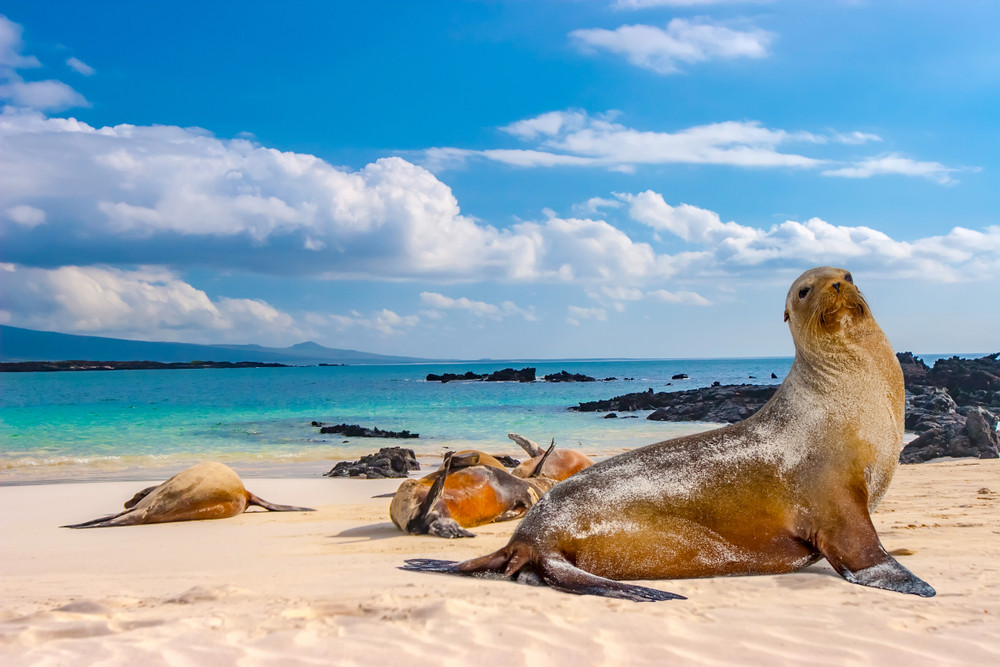 Isabela is the largest island and is the most volcanically active island, where you can see some of the Galapagos' most famous birds. Floreana Island is the home of the famous "post office barrel", which was placed on the island by whalers in the 18th century but is still in use today. Pt. Cormorant has a jade green volcanic beach that has to be seen, plenty of lagoons and flamingos.
San Cristobal is the easternmost island that is home to the island's capital, Puerto Baquerizo Moreno. Here, you'll see sea lions, iguanas, and much more!
The official language spoken here is Spanish, but many people on the islands also speak a good amount of English, and they use US dollars, so it's super easy to get over there and spend money without worrying about strange exchange charges.
Thanks to its beautiful scenery and incredible animals, the Galapagos Islands make the perfect addition to any travel bucket list. If you're putting together your ultimate travel bucket list, use our bucket list maker or download the Buckil app, available on iOS and Android, to take your bucket list with you everywhere you go.