The "Door to Hell", otherwise known as the "Gates of Hell" and the Darvaza Gas Crater, deserves a place on any travel bucket list.
The Darvaza gas crater, in Derweze, Turkmenistan, is a natural gas field that collapsed into an underground cavern and then was set on fire by geologists to prevent the spread of methane gas. Now, it's been burning for almost fifty years – it is believed to have been burning since 1971.
Back then, Soviet engineers found the area and thought it would make a substantial oil field site, but shortly after setting up a drilling rig and camp, the ground collapsed and buried the rig. The engineers expected the gases released from the pocket would be poisonous, so they decided the best thing to do would be to burn the gas off. They thought the gas would burn out in just a few weeks… but here we are!
This burning crater is no dip in the ground – it's huge. The crater is 69m (226ft) across and is 30m (98ft) deep! In recent years, it's no surprise that the crater has become a popular destination for more adventurous travelers.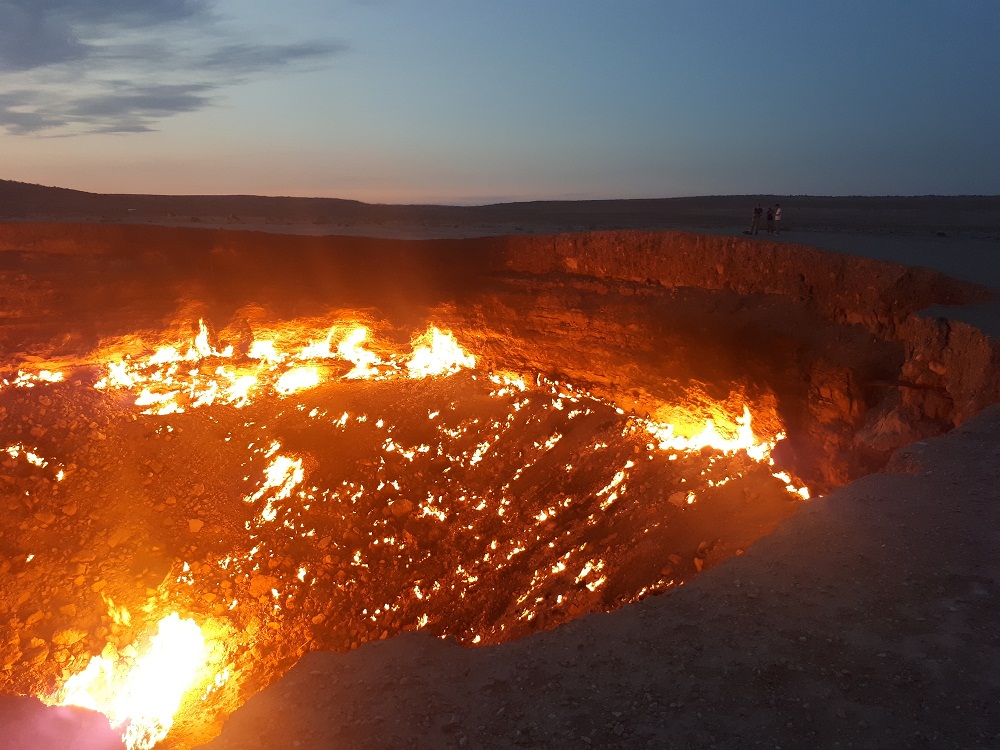 The area is also popular for wild desert camping – perhaps something else for your bucket list?
The best way for most people to visit the crater will be on a tour around Turkmenistan, though if you are traveling on a budget a tour may not be for you (they cost about $150 a day), so if you want to get to the crater on a budget your next best option will be to find your own transport or use buses and taxis (which are plentiful in the area).
Fortunately, the roads to the area are good, so you can get there by car, motorbike, or even by bicycle – where you can cycle past wild camels! For most, this bucket list item really will kick you out of your comfort zone and offer you an experience you'll never forget.
If you're looking for more unique bucket list ideas, you need to check out Buckil.com, where you can start your bucket list online. Best of all? We have an app!Download the Buckil app, available on iOS and Android, to start planning your next travel adventure!